It's taken long enough, I know.  I promise 2016 will not take as long… unless someone else dies and I get depressed and don't do it.  But back on topic, hope you find something new and exciting here.
Children's Books:
Tea Rex by Molly Idle
A little girl and her brother have a tyranosaurus rex over for tea. The text goes over tea time manners while the beautiful pictures tell the story. Hilarity ensues.
Nerdy Birdy by Aaron Reynolds
A picture book about the difficulties of fitting in.  Personally, fitting in has always been a struggle for me, so I found this heartwarming.
Santa Claws by Laura Leuk, illustrated by Gris Grimly
Children's picture book about monsters and Christmas, illustrated by the amazing Gris Grimly.  Are you looking for a book that's cute, but creepy?  Look no further.
Fortunately the Milk by Neil Gaiman
A short children's novel about a father who has a wacky adventure while on the way to the store to get milk for his children's cereal.  And it's by Neil Gaiman.  'Nuff said.
Monster on the Hill by Rob Harrell
A graphic novel about a world where each medieval town has a monster they are proud of.  Every town, that is, except for Stoker-on-Avon.
Teen Books:
Glory O'Brien's History of the Future by A.S. King
A strange story about a girl and her friend who drink a bat and gain the power to see both people's past and future. How do you drink a bat? I'm not telling. As for the history of the future, it's horrifying and compelling, but I can't tell you much more than that. It's a story about friendship and choices, despair and hope, truth and lies, art and life, and the connections between people, both past and future. And personally, I enjoy books that delve a little into what it's like living with mental illness, as well as feminism. I can't think of a better way to explain this book; you just have to read it.
Etiquette and Espionage by Gail Carriger
Silly steampunk adventure about teenaged Sophronia, who is failing at being a proper lady. Her mother sends her away to a very unusual finishing school where she learns not only to be a lady, but also spying, poisoning, and a lot of other things she never expected. It takes place a generation before the Alexia Macon stories, so there are guest appearances of characters I recognized, but much younger. Fun fan service to see these characters in their youth.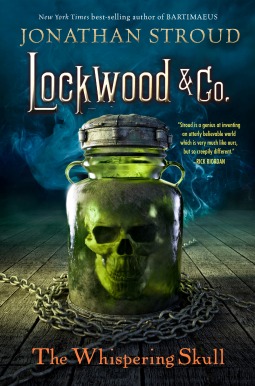 The Whispering Skull by Jonathan Stroud
Lucy, Lockwood, and George take on a seemingly normal case helping out a graveyard crew. But the body they unearth is more perilous than anticipated, and the people involved are just as dangerous as the ghosts. More banter, more scary ghosts, more adventure, and of course, a mystery.
Ms Marvel No Normal by Willow G. Wilson
Part of being a teenager is dealing with being different, not fitting in.  And what I love about this version of Ms Marvel is that the girl is a muslim teenager living in New Jersey.  On top of all the normal teenage angst, she also has to deal with prejudice about her religion, and racism because she is of middle eastern heritage.  Plus, you know, super confusing new powers, and having a secret identity, as if things weren't complicated enough already.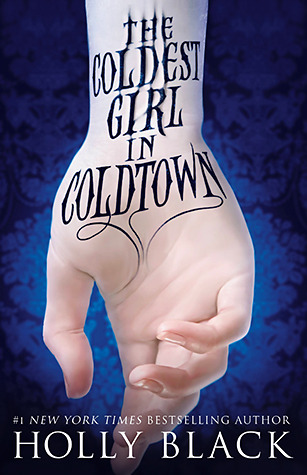 The Coldest Girl in Cold Town by Holly Black
Holly Black wrote a vampire book.  That's really all I needed to know, but if you need convincing, it's about a teenage girl named Tana who wakes up after a house party to find that everyone else in the house has been massacred by vampires.  Everyone, that is, but her ex-boyfriend(of course) and one vampire who has been left behind by his companions to die.  But Tana's ex is "cold" with the vampire infection, and she fears she may be too. Vampirism is treated as a communicable disease by the government, and "cold towns" have been established and quarantined for those infected.  Holly Black builds a rich world of quarantined concentration camps, prejudice, fear, reality television, and celebrity worship around a character who struggles with her own self destructive tendencies.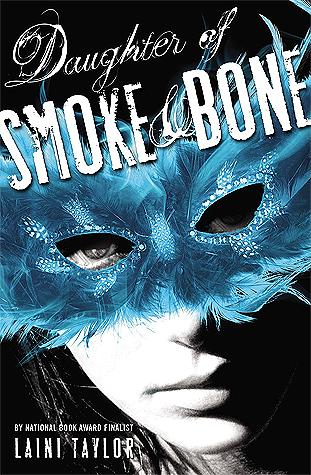 Daughter of Smoke and Bone, Days of Blood and Starlight, and Dreams of Gods and Monsters by Laini Taylor
I completely tore through this whole series on a recommendation from a friend, Maryelizabeth, who owns Mysterious Galaxy in San Diego.  This is the story of Karou, a mysterious art student with blue hair(yo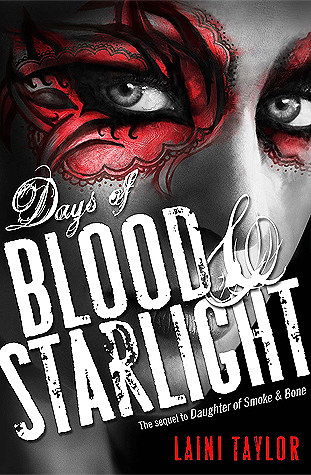 u gotta have blue hair) and tattoos who draws monsters in her notebook.  What her friends don't know is that the monsters are the only family she's ever known.  The double life of a normal art student, and errand girl for monsters is a lonely one, and Karou is starting to get fed up with it all.  Then three angels with wings of fire begin marking magic doo
rs with handprints, and Karou's life is about to literally burn down around her.  I love the amazing world that Laini Taylor has built, the characters she's created, the drama and the humor, and the marvelous strangeness of it all. It's a love story full of the worst kind of betrayals and loss, friendship and revenge, wishes and monsters and secrets, but a love story nonetheless.  And I love it.
Adult Books:
The Way of Kings and Words of Radiance by Brandon Sanderson.
How does he do this?  The books are huge and daunting, but totally worth it, and with Sanderson, you know you won't be waiting 10 years for the next one.  He builds an amazing world ravaged by magical storms, full of strange creatures, new religions, and characters you want to like because they all believe they are doing the right thing(even the bad ones).
Injustice: Gods Among Us, years 1 and 2 by Tom Taylor
I don't often read DC comics, but these are amazing, and dark, and really explore the line between good and evil, hero and villain.
Outliers and Blink by Malcolm Gladwell
Fascinating research on becoming an expert, making snap decisions, and what makes successful people stand out from the crowd.  It gives you insight and perspective, like turning the Rubik's cube of life around in your hands to examine from all angles.
Death Masks by Jim Butcher
I realize this is a single book partway through a series, but I don't care, it was still one of my favorites from the last year, so it's on the list.  Dresden is forced to confront the consequences of some of his mistakes, part of his past he tried to forget, and finds himself tempted to do the wrong thing.  Lots of moral and emotional dilemmas combined with sarcastic humor, badass fighting, and magic and myth.
The Artist in the Office by Summer Pierre
Quite possibly the most inspiring book I read all year. A fantastic self help book for artistic personalities who work in non-artistic professions. It helps you to incorporate art into your daily lifestyle at work and at home, and to recognize how you can live your ideal artistic life, or something close to it, while working a day job. It has really energized me, and reminded me about the good things in life.
The Third Act: Writing a Great Ending to your Screenplay by Drew Yanno
It's short, and pretty to the point.  And it helped my fix the ending to my first completed novel.  Effective!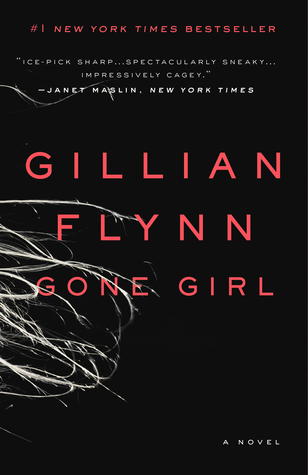 Gone Girl By Gillian Flynn
A dark, surprising murder mystery full of twists.  This story kept me entertained despite the lack of magic OR spaceships!  But dark, Dark, DARK.  Be prepared for some messed up relationships.  Nick Dunne's wife disappears, and when the clues begin to point back toward Nick himself, he realizes that the most likely explanation sounds completely insane. The movie was a faithful rendition, but the book is still totally worth it.
Saga vol. 4 and 5 by Brian K. Vaughn, illustrated by
Fiona Staples.
I love this series so much, and it continues to hold my devotion.  I love the characters, and I
love the art, and I love the world.  Though I have to say, there a was a really harsh sucker punch at the end of Vol. 5.
So there it is, only like 11 months late… Happy reading.